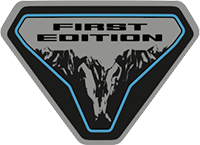 Well-Known Member
First Name

Bruce
Joined

Jul 25, 2021
Threads
Messages
Reaction score

80
Location
Website
Vehicle(s)

'21 Bronco Sport FE Area 51
S'Up Bronco Sport Fans!
My son and I were part of the first class to do the Bronco Sport Off Roadeo at Moab, UT. We had the honor of "Bronco Busters" by being the first to drive the 8 new Badland "ponies" for class. They still had that new Bronco smell, 2-way handheld radios (mine was #30) and the carpet mats were just installed before we got in by our native Moabite trail guide, Mandie. There were 14 of us in the group, not counting our trail guide. There were 6 partners/couples and 2 single drivers. Only one couple did not have their Sport yet.
Once lunch and the team meeting was over, we got to "run" and pick what BS/Color to drive. They did not have numbers on them, but I ended up with a sliver Bronco, #5 in the convoy. They might just randomly park them for each class, but the one parked close to the stairs going down to The Cowboy Grill is Bronco-1 Team Leader, so if you choose that one you get to ride with your trail guide. We then did a road test (ECO mode on the way out and SPORT mode on the way back) to get them to Owl Draw Road.
This review will be about the class and my experiences that might help you when you go. I am not an experienced 4x4'er, so no details or review of the trail we rode. I will leave that to the more experienced ones in the group to post. However, going with no knowledge of the trail (they might have a few different ones) will only heighten the off-road experience. You will face unknown challenges that your guide will help navigate. Us having a well-experienced Moabite trail guide with historical background information was a plus. I won't say more than that- no spoilers about our guide Mandie- the "Moabite Princess" we "branded" her by the time we were at the middle of the trail. Yes, there were a lot of puns.
The emailed agenda I got was not correct. You will get the day's agenda when you sign-in (shout out to Steve) - it's on the back of the tag with your name on it. What we did for the 10-11 hours for the "half-day" class was really good enough. Why sit in a classroom when you can get the info on the trail with hands-on training? With more of us already driving our Sports, this makes sense. Will there be an advanced course or opportunity to do a course with the "Bronco Bronco", as the other trail guide called them? (He looked like Crocodile Dundee- just needed a Bowie knife on his belt.) That remains to be seen.
AGENDA 11:00am Start
Lunch (don't forget to grab your buns before you get your meat)
Orientation & Introduction (Give your stats and your Sport usage. You might need to speak loud- we shared the area with some "cool HD bikers" but very loud stories like "Remember that time I got arrested?..."
Trail Drive (up- let the fun begin, roll film)
Breaks (find a good tree far from the trail or photo ops)
Trail Drive (down- fun still happening, put your training to use)
Cookout & Campfire (we had tri-tip or chicken with a variety of sides, some in the group were "plum tired" and did not stay for dinner, cowboy guitar player or the campfire. At the fire there were about 9 of us, we told stories, what we named our Broncos and why.)
GEAR & SUGGESTIONS for ATTENDEES
You should get an email with a list of items to bring. That's all correct. However, this is my list.
Gaia GPS app (download and set-up before you go)
USB phone cable (no wireless charging in Bronco)
Extra batteries for video / digital camera or charger (there's 110v in the cargo hold)
Small cooler with ice and drinks (no alcohol) to share. (you can load up your Bronco with whatever you need for the day- its a real trip! Bottle opener included. )
Medication / First Aid kit / Personal restroom items- if needed (you will be gone for hours. Some items for all are provided in the cargo hold.- Ladies, could you bring a cassette toilet if you are not comfortable in the "wild"? There are some compact ones available. Best to ask before you "go")
Binoculars (lots of breathtaking views)
Multi Tool (just to look cool on your belt. Also when you're ready to cut off your wrist tag- mine was still on as I wrote this. Bronco-1 has recovery gear- so no need for that. )
Sirius XM favorite channels (yes each Bronco has it activated- I would recommend ROAD TRIP but that's too "cliché" I'm more a 1st Wave or Utopia guy. Coming back down we were listening to Lenny Kravitz "Are You Going My Way" while running the "sand dune" stretch. Being Bronco-5 we got a good view- it was like a Ford commercial spot- perfect B-Roll shot)
Dad Jokes and Puns (need I say more?)
Ask Questions (there's no stupid questions - only dump answers. This is a learning experience - they want you to get the basic skills to operate your Sport)
Cooling Towel or Soaker Hat (recommend Moab Gear Trader to get one in town- to stay cool outside)
Watch MST3K "Eegah" (S6E6) (Watch out for snakes and honk if you see anything)
SITE
When you enter the Lodge driveway - turn right. There are large signs posted where to park at "Basecamp''. Upper and lower gravel parking lots. If you can not do stairs- then use the lower lot for ADA parking. There is 3rd lower lot- that is for all the Off Roadeo's Broncos. I will be posting a highlight video of Basecamp. Come early and you can get your "clean" before photo ops and then "dirty" after photo ops. My son and I were about 2 hours early and were able to go to the Movie Museum. It's amazing how many movies, music videos and media were shot there in Moab.
Our basecamp host was Steve. He gets you set-up and waivers to fill-out (you can keep the pen). Have your DL ready. We wore our masks but currently there was no requirement to wear one. However, there are hand sanitizers throughout the place. There is "merch" you can buy before and after the class- not all sizes are out- so you can ask if you don't see yours or want additional ones. There is a Bronco hall of history. ( RIP Bronco 2 - no love there). Overall A+ site.
SUGGESTIONS to FORD and STAFF
Both Steve and Mandie promised to read this review. If you guys are reading this... thank you. I hope I made you laugh. Please let me know if I need to make any corrections on spelling or change names to protect the innocent. To all the other staff (housekeeping, food, garage, etc.) thank you all. Special thanks to the Bronco wash detail team -you have the toughest job working late into the night getting everything ready for the next day. I hope you found and ate my beef sticks I forgot in the glovebox.
I am not going to write about the Bronco vs Bronco Sport class differences. Figuratively or literally. We all are FORD family here, but I understand and acknowledge there is an issue. However, the Bronco Sport demographic is different and there are limits to what the Sport can do. Our well-experienced guide told us the Sport could do trails rated 1 to 3 - no problems. However, we had one experienced driver in our group (
@xlite
). I am sure he can give his observations of what he's done with his Sport. Regarding the class:
Switch convoy rotation at the turn around. (Bronco-8 takes the lead with the trail guide, 7,6,5,4,3,2 and 1 takes the rear. 5 and 4 would be about the same view, but the others could get a different perspective)
Do a raffle during or at the end of dinner. (4 or 5 big items- FORD performance jacket, Bronco sun shade, Flood light kit, Lift Kit, Dash Cam kit. Everyone else gets a "free oil change" card)
Give out Awards. (judged by the trail guide- Dirtiest Bronco, Class Clown, Most Likely to be Recovered, Newest Owner, Oldest Owner based on registration delivery date, etc.)
Certificate of Completion (for all drivers - maybe there is one in the mail already)
Open up the class to all Sport trim level owners.
Offer an advanced course. (level 3 or 4?- must complete the basic course first)
Advance Class Reunion. (same as above but with same people from their original class)
Offer a discount for 2nd basic course or at another location. (owner wants to bring a different friend or a son / daughter that turns 18)
Give out a local trail map.
Fix email agenda to match the half-day class.
Professional Video Drone Pilot (at end of day we can purchase a link to the video or later a produced video of the trail run)
SUMMARY
This was just plain fun. It was a great Father and Son event. Building memories here. A++.
Would I do this with my daughter also? Yes. Would my wife do the course- maybe not but it could encourage her to be more confident if she were to get stuck down a muddy road. Flying into Salt Lake- driving 4 hours to Moab, enjoying all the classic road trip things. Just an awesome experience all around. FORD to us means:
Last edited: