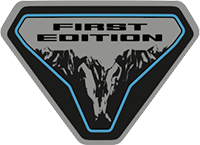 Member
Just curious to see how many first edition owners like me didn't get the cross bars? Most of the pictures I have seen here of FE owners as well as on FB or even dealer sites are showing FE without cross bars. I contacted my dealer about it and they gave me some story about whoever originally ordered it (I didn't order my FE, I just happened to get one that someone backed out of) must have chosen to not have the cross bars as a way to save money. I've also had the run around that if it wasn't agreed on before purchase, it will have to be ordered separately. I thought this was supposed to be a factory included option according to Ford.
So how many of us didn't get them and have you had any luck trying to get them? I know it was as mentioned on my other thread and
@COBronco
shared his difficulties in order to get his. I guess I'm just interested to know why so many of us are not getting them?
I have also seen
@Steinfeld9
's post about it being changed to on optional accessory. I haven't been able to find anything else about this. Can anyone verify that?
I apologize if this has been already discussed and I have missed it.