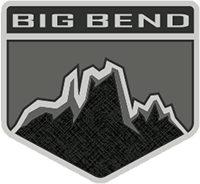 Member
Broke the 10,000 mile mark this past week on my Big Bend edition. I have had the vehicle a little over 4 months, yes I drive quite a bit, especially for work. A number of long drives, including a trip from southeastern Wisconsin north, across the U.P. of Michigan, across the Makinac Bridge, and back down into lower Michigan. Overall, the Bronco is holding up just fine. I have not had any warranty issues, and I really don't have any major complaints. The auto stop/start feature I find annoying, and turn it off whenever I remember. I also wonder who thought that little wiper on the back window was sufficient.

With regard to maintenance, I have changed the oil twice. I know that sounds extreme, but from my research, and talking to a veteran Ford mechanic, what I gather is that the eco boost engine is a different animal. Apparently, they run hotter than you average aspirated, push-rod engine, and need as much protection as you can give them. So, I am looking myself at changing every 3000-4,000 miles. The Ford mechanic felt very strong about this for people who drive more city the highway. I personally drive mostly highway.

Overall, solid vehicle and very happy I was able to get one.