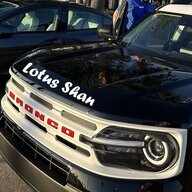 Active Member
First Name

Bill
Joined

May 11, 2023
Threads
Messages
Reaction score

95
Location
Vehicle(s)

2023 Bronco Sport Heritage
I participated in the New Hampshire Off Roadeo on June 9th and wanted to echo what's been said before - it's a nice day, great way to see some of what the Badlands trim can do, and just generally fun. I'm blown away by Ford's investment in these events. The buildings, fleets of vehicles, pro guides and staff, catering, even live music at dinner. Pretty impressive.
There were a couple of Big Bronco groups of 17 Broncs each out on the trails. There were three vehicles in the Sport group, and we used different trails. We got lots of driving, very little waiting. Our guide was great. Professional, patient, very knowledgeable, A+ all around. We tried out the various Badlands features at different points, but the Sports would have made the whole day in Normal mode, I think, with very little drama.
We were provided boxed lunches at the top of the long ski lift. Note - pay attention to the weather. It was cool and rainy. That translates to pretty cold on the rides up and down. Dinner was catered in the Bronco building, communal tables. Gas fire pits outside for socializing afterwards, and a coincidental Bronco Nation visit.
I asked about the attendance difference of Big Broncs v Sports. They sell reasonably similar numbers according to Ford Authority. Seems Sport buyers are less outdoor or off road oriented than big Bronco owners and don't sign up for the Off Roadeo. If you have an excuse to be near one of the sites when they're offering the Off Roadeo, it's a good experience and interesting perspective on what the Sport can do.
New Hampshire lacks the dramatic Moab landscape. It does have the White Mountains and picturesque scenery though. If you go to NH, pay attention to the weather and bring bug spray. If you never heard about the NH state bird (Maine claims the same critters), you will learn soon enough. I also managed to catch a couple of ticks crawling on me.
Below are a couple of pics of White Mountain scenery (not at the Off Roadeo), Jordan the Guide doing her thing, the Sports surrounded and outnumbered, and half my face. There were two other rows of big Broncos in the parking scrum on the way up, but it was actively raining and I was actively not digging out my iphone on the ski lift. Jordan regularly walked ahead and talked to us about the terrain ahead and the Sport features and capabilities appropriate to the need.
Safe travels and hope you all enjoy your Sports!