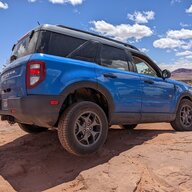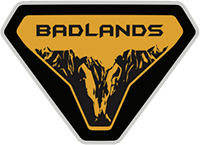 Well-Known Member
Hi all, I mounted some snow tires this week and want to pass along some information that might be useful. I was able to re-use an extra set of 17" wheels we had for our 2012 Focus Titanium. Note that other Focus models came standard with 16", or could be ordered with 18" optional wheels, so if you go this route, be sure of what size you are planning to use or get. I believe some Escape wheels are also the same size as Focus, but please do your homework to confirm rather than take my word for it. .
The Focus wheels I have are the same size as our 2022 Badlands wheels (17x7), same 5x108 lug pattern, and have the same hub bore. The offset is different - Badlands wheels are marked (-)37.6mm while the Focus wheels are (-)50mm. This means an additional -12.4mm offset (slightly less than 1/2"), which tucks the wheels a bit further inside the wheel wells. In my mind this is not a bad thing for winter tires, by helping keep sand and rock chips at bay.
I am running 235/65-17 Nokain Hakkapellitta studded tires and do not have any clearance or rubbing problems. However the inside forward edge of the driver's side front tire gets close (less than 1/2") from rubbing the fender liner at full turn. There is a slight bulge in the fender liner at that location so if you plan to run 245's or larger on Focus (or other, i.e. Escape, etc.) wheels with -50mm offset, they may rub slightly. Based on this, I also doubt that optional 18x8 versions would work if they are the same -50mm offset.
Also, thanks to
@wilbur_xmas
who mentioned it in their post, I can confirm that the TPMS sensors ordered from Tire Rack work without additional programming. The sensors I received are part number S163, which are Schrader #20452, and were $27/each when I ordered. I went this route as the local tire shop wanted $60/each for their programmable sensors.
Focus on left, Badlands on right.
Fitments below:
Badlands offset:
Focus offset:
Hopefully this is helpful for those looking for an extra set of wheels for winter use, or whatever other use you have in mind. While I would've preferred a set of the optional BL 'Steelies', but these look good and saved us the additional time and cost of finding another set. It may be a while before BS sets are readily available at a reasonable cost.