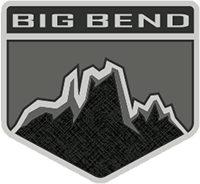 New Member
First Name

Cody
Joined

Nov 7, 2021
Messages
Reaction score

22
Location
Vehicle(s)

Bronco Sport
After reading and watching a ton of reviews, I wanted to put my thoughts in now that I've driven on/off-road for a decent number of miles.

OFFROADING

Mindblowing how good even the BB is. I used to own a raised Wrangler with giant tires and did some off-roading with that, along with off-road trips with friends, so I have some general experience. Every single thing I throw at the BB is handled with aplomb, and goat modes make it even more capable. After taking it out to Ocotillo Wells and Otay a bunch of times trying to get gnarly with it, my opinion now is that the only thing holding the sport back is clearance. I'll put it this way, if you're shopping for a sport, full size, or competition: if you have to ask the question "do I need the full size bronco?", then you don't. The sport is so capable that you'll only need the full size if you are a serious offroader. I do wish there were more clearance, but even stock I never felt stuck. I'll likely throw a lift kit and bigger tires on it at some point for fun.

HANDLING

Feels good. Not stupendous, but yeah I didn't buy a lambo did I? I can still whip pretty hard into turns and it doesn't give me that "Uhh am I gonna flip?" moment. Pretty responsive, and a delicious turning radius. Also thank you car-jesus for the invention of backup cameras.

MPG/GAS

I use premium and find two differences. 1) I get 1-2 more mpg, and 2) the transmission response is better/tighter/quicker/etc. I didn't have the funds to buy the massively over sticker BL at the time, so I was bummed with the smaller BB engine. It felt serviceable and nothing more. Using premium changed that; there's just enough kick to be satisfied, and of course more so if I use sport mode. Regarding MPG, it varies wildly depending on what I do. Freeway with eco mode? 34MPG. City driving in normal? 21-23, depending. In the end the marketing seems correct though, with an average of about 25-27MPG. SoCal's traffic of course murders my MPG so perhaps other users have better numbers. But from what I've seen this is a car with a massively driving-dependent MPG — which I suppose is cool, since the MPG is mostly in your hands. In the end I think I'm breaking even using premium, and even if it's a little bit of an added cost, if you have the smaller engine it's totally worth it for the oomph.

SOUND

I'm a musician. This was important. The BB is solid. Not mindblowing, but to be honest I've tested a ton of cars' sound systems in my audiophile quest for perfection, and cars just ain't it. Acoustically cars are just bad for perfect listening; bad positioning of listener to speakers, too many refractive surfaces, etc etc. The sport does sound great for a car, and adjustments to the sound can make all the difference. I listened to the upgraded sound system while testing an OB model and was unimpressed; I don't think it's worth upgrading for. If you're desperate for bass, just buy a subwoofer.

INTERIOR

At first I was salty about not being able to swing the upgraded interior, but now I'm glad. The combination of futuristic, minimalistic, and practical design fits the idea of the Bronco Sport very well. It's just enough lavishness while still staying true to being rugged.

People complain about the seats, but I just don't see it. If you're a massive and/or tall person, perhaps, but that would be an issue with most cars. The seats don't feel like a dream, but I've never felt like my body was suffering from them. If your thighs hurt, make the seat lower; that will also help with the slightly awkward sun visor that doesn't go as far forward as some may need.

Ergonomically designed everything, feels intuitive where to put my phone, keys, wallet, drinks, etc. Never felt awkward.

Another joy of the BB model is NOT having the bigger/fancier screen in the dash. I love technology but man, I want my car to be a car. The size of the SYNC3 screen in the BB is just big enough to be easy to use while not becoming this massive distraction. Have you driven a Tesla? What is this massive laptop doing in my car? So distracting, no thanks.

OTHERS

Did you know you can push that stop/hold button next to the e-brake and just leave it on so you hold every time at a stoplight? Dumb me didn't really understand it's function, so I thought you had to press it every time. For years I would e-brake at stoplights, so I thought this was cool. But little did I know you can just leave it on and it stops you every time automatically. To be honest this is my lowkey favorite feature.

The back is just long enough so you can put down the seats and sleep as a 5'9" person; if you're taller you gotta angle yourself or push up the front seats. Pretty comfy though.

I surf so the glass opening is fun, and also the keypad is a lifesaver for the "where in the hell do I stash my keys" surfing moment. Haven't even touched my keys for months, I just use the keypad.

BADS

Don't stand on the car. I was used to older cars/Wrangler so I was hoping you could be more rough with it. I climbed to the top of the car to clean it and immediately dented the roof. I popped it back, but yeah, not that kind of car.

Sometimes my collision detection goes off for no reason. Only happened a few times, but weirds me out when it does.

I've since adjusted my driving for when and how to stop somewhere, given the engine auto stop feature. It feels kinda random when it turns on and off, and I truly wonder if this technology does anything valuable. It doesn't bother me now, but it's something you have to get used to.

SYNC3 is sometimes laggy. Not enough to be an actual complaint, mind you, and I wouldn't worry about it, but in today's age of super fast computers and phones it's kinda like come on man.

Sometimes my aux lights in the front (the horizontal beams) stay on. idk why. I'll come back to the car and they'll be on, even though I went into the settings and set them to turn off. It's only happened for short trips though, so I guess the timer is still at work with them.

People talk about the dangers of buying a first year model so I'm listing it under bad, but the warranty seems pretty comprehensive. Nobody wants to get screwed, but as a not-rich person I don't feel worried about it.

SUMMARY

This car is, holistically speaking, close to perfect. Offroads like a mother fucker, looks like a sleek Land Rover, ergonomic interior with just enough features, and given what it's providing you with offroad capability, a respectable MPG. Regarding trims, BB and BL seem to be the only worthwhile ones, personally. Base has some key features missing (no LED fog lamps, no push start, no remote start, no rubberized cargo flooring, no lights on the sun visor mirror, no easy clean fabric), and OB to me seems like a lot of fancy trim that's not really that fancy when you consider the competition. Do what you gotta do and buy what you like, but that's how I feel about it.

Basically: the Bronco Sport is categorically better than it has any right to be.