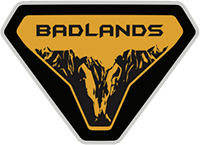 Well-Known Member
Olive
On Wednesday, 26 October 2022 I took possession of my Cactus Gray Bronco Sport Badlands. Here it is in my driveway after the 90 mile drive home from Colorado Springs.
Why "Olive"? Well for me the color is the thing that really stands out and has gained a lot of comments and attention. For me, this color reminds me of the Russian Olive tree's leaves.
There's some green and some gray. So, I gave it the name "Olive"
With about 7 months between ordering and delivery, I had a lot of time to think about what I wanted to do. I also got a lot of inspiration from this forum and the member's posts. I started to build a list of the the things I was going to do, along with ordering the parts and supplies I would need.
I took some pictures and collected some experience/thoughts while I was making these changes. Each item in the list below that I worthy of creating a post, is (or will be) a link to a separate post in this thread.
Here is my list:
Grille Letters
Door Badges Removed
Bumper Marker Lights/Reflectors
Fender Lights -
WinPower LED Side Marker Light Turn Signal
(
instructions
)
Hatch Letters
Hatch Ford Logo/GOAT Badge
Rear Bumper Top Protector
Bump Step
Hood Deflector
- AVS Aeroskin II
Blind Spot Mirrors
Cup Holder Trays
Arm Rest Console Phone Mounting
Trunk Organizer
- works with Cargo Management and a set that doesn't
Antennae
Lift Kit - HRG
Brake Pads - Power Stop Ceramic
Hood Struts -
Sukemichi
Wheel Spacers
Fender Flares -
Air Design
Wheels/Tires/lug nuts
Fitting 245 Spare
LEDs for Tail Lights
Bike mounts
Oil drain valve -
Fumoto F107SX
Ceramic Coat
Cerakote Trim
CarPlay Wireless Adapter
Speakers
Paint Correction and Ceramic Coat
Measurements
Tire Diameter (stock and aftermarket) - 28" stock, 28-7/8" Toyo​
Wheel/tire weight: Stock Spare - 50.5 lbs, DX-4 - 53 lbs​
Drive line angles (stock and after)​
Stock​
Sitting: FR-7.7, FL-6.4, RR-1.9, RL-2.9​
Full Droop: FR-20.7, FL-17.3, RR-13.5, RL-12.1​
Lift​
Sitting: FR-14.6, FL-12.7, RR-6.6, RL-7.1​
Full Droop: FR-26.6, FL-22.5, RR-14.1, RL-12.7​
​
Reference
Now today after a week of working on it mechanically and aesthetically this is the transformation.
Last edited: