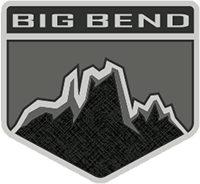 Active Member
I have recently upgraded my tires to the 235/65/r17 Open Country A/T III so decided to take my Big Bend off roading on what was listed as a moderate difficulty trail (Yankee hill in Colorado). Didn't have any traction issues or anything like that (aired down to 20-25 psi) and for the most part did just fine but did end up scrapping / bashing a few times on some larger rocks I couldn't completely avoid and even managed to brake one of the mounts that hangs the muffler (even the guy at the ford parts center was confused as to how the piece broke. The metal skid plate under the car car scrapped off on the drivers side and is a bit bashed and crumpled but apart from some scratches on plastics doesn't seem to be any other issues.
So that brings me to what are some parts I should swap out to make this a bit more reliable off road. I would like to have full metal skid plates covering all the important parts but i've been a bit confused by some of the posts here with links to a few part number of which areas these actually cover. I was planning to get a lift kit but not sure how effective the 1.5" from rough country really will be, id like the 2" from ford lifts but at over $500 that's way too much for a basic lift kit (should have done this and then bought largest possible tires but too late now). Being on the base big bend i don't even have the rear hitch and doesn't look like there are any front tow points so seems like i need to get something added there (not sure if the tow hooks from badlands can be easily installed or if something like rough country nudge bar would be a better option).
What parts have others added to help getting out in more rugged terrain?