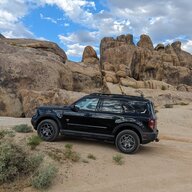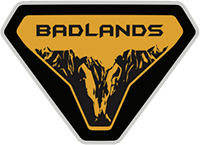 Active Member
Joined

Jun 27, 2023
Threads
Messages
Reaction score

93
Location
Vehicle(s)

Bronco Sport Badlands
-I- was perfectly happy driving up to Moab and back, but my wife always says if we're going on a trip, she's wants to get her money's worth. Besides Moab, we did Vegas, Glenwood Springs CO, Taos, Santa Fe and Gallup NM, and Phoenix before we returned home to California.
The Badlands did everything we asked, with no problems. Worst gas mileage (tank) was 23.something between Vegas and Salina UT; best mileage ( tank) was 34.something between Minturn CO and Taos NM.
The Off Roadeo was a blast and a half. We went the day before the eclipse, and there were 8 Sports and 24 big Broncos ( they do a different course, we never saw them). We had a great guide (Tyler) and he showed us every GOAT mode, all the buttons around the GOAT dial, how the paddle shifters worked; and he patiently answered dozens of questions.
I just can't recommend going to Off Roadeo enough.
Things we saw/ did along the way: dinosaur tracks in Moab, hiked up a butte in Canyonlands NP during the eclipse, visited Doc Holliday's grave in Glenwood Springs, saw Bighorn Sheep and Pronghorn in NM. Saw an 1850s fort that protected wagon train settlers. Went to Los Alamos to see some of the places from the Manhattan Project. Visited Trinity Site, the location of the first atom bomb explosion. Crossed the Continental Divide 4 times.
We've been home 3 1/2 days and we're still recovering.
As I said, the Bronco performed great, this trip is exactly why we bought it.
Turnaround point for Off Roadeo at boundary fence for Arches NP
Biggest obstacle during Off Roadeo-- rock crawl mode, and differential engaged
View of Delicate Arch (UT license plate) from turnaround
Rear end of Badlands after adding Off Roadeo sticker
Mill Canyon Dinosaur Track Site, N of Moab
Aztec Butte Canyonlands NP
Eclipse pinhole camera caused by sun shining thru bush
Pronghorn Antelope + Santa Fe Trail, Ft Union NM. 3000 wagons/year went thru Ft Union.
La Vista Verde trailhead, near Rio Grande River, Carson/Taos New Mexico
Bandelier NM, near Los Alamos
Prairie Dog, Valles Caldera National Preserve, near Los Alamos
Trinity Site, White Sands Missile Range
Last edited: