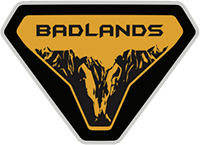 Well-Known Member
First Name

Bill
Joined

Mar 16, 2021
Threads
Messages
Reaction score

2,984
Location
Website
Vehicle(s)

"21 BS Badlands, '16 F150 Platinum FX4
Thanks. I was pleased to stumble-up on this one; not only with the exact trim, options and color I wanted, but a one-owner that was originally bought, and serviced exclusively, at the dealership where I got it. 16,500 miles and only a couple of minor paint chips (that you have to really look close to noitce) distinguish it from "new" appearance. Tires are actually at 7/32nds... typically where I'd replace ATs, but I'm going to live with them for the time being.

Conventional wisdom says to avoid the first year of production, and it would seem these being plandemic-era would make the '21s even more susceptible to issues, but it does seem the 2.0-equipped BS are an exception (although I learned the morning after I bought it that mine does have the brake moan issue).

I hadn't noticed since I wasn't looking for it, but in doing a quick search, I didn't find CP 360 Assist + on any in-stock MY besides '21. Curiously, if you build a new one on Ford's website, it shows an option of ...Assist ++, and allows you to select it, although I can't tell from the description what the 2nd "+" is for.
I got 10k miles on mine hasn't had any issues yet. I did replace Park Release Cable myself due to faint noise on left side of dash and it made noise go away. Ford revised that cable twice in '22. Mine like silent now. But yeah love mine so far and it look-a-like to yours.