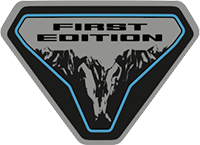 Active Member
Hello from Southwest Kansas! I am a new member and proud new owner of an Area 51 First Edition. I really like this vehicle! I did not order this Bronco and I didn't have one reserved. I am just a Ford guy and I have been excited to see the return of the Bronco, and the new Bronco Sport.
After spending hours on B&P, I wanted to finally see one in person. A dealership near me showed that they had at least 2 on their lot. Well I arrive at the dealership and barely get a chance to look at the first one I saw (a Rapid Red Big Bend) and there was the salesman. We talk and look the car over, then he asks if I am interested in test driving one. I said sure and he then says okay then you need to come see this First Edition we have in the back. The guy backed out so now it's up for grabs. I thought wow that would be pretty cool to check out a First Edition! Long story short, I drove it, I liked it, I and bought it!
You have to see this color in person to really appreciate it! Depending on the lighting, it can be blue, gray, greenish, or any mixture of the three. IMO the navy pier looks pretty cool and although I didn't test drive a BS with the 1.5, I wouldn't want anything less than the 2.0. It had a lot of power for a small vehicle. After a 500 mile road trip, I can report that I am very impressed! I averaged 25 mpg at 75 mph. I enjoyed using the lane keep assist feature. Adaptive cruise would be cool but I don't think its a big deal not having it. The ride is very comfortable, and the inside feels very spacious. The rear seats are surprisingly very comfortable. It does look cramped back there but it makes for a nice ride. I am 6'2" and had no complaints with the front or rear seat. Of all the vehicles I have owned or driven, this probably has the most head room.
I have not really had a chance to take it off road. I did do a little drive down a 2 track road just after a light snow and it was no problem. The road was dirt with some rocks. The ride was not bumpy at all, the suspension is great! The different terrain modes are pretty cool. The way the vehicle performs when in different modes is pretty noticeable. The throttle response and shift points vary greatly depending on mode selection. Rock Crawl seems like it is in a low low gear. Sport is an interesting one and the artificial v8 sound is cool, kinda adds to the driving experience. Normal and Eco seem pretty similar. It doesn't matter what mode I put it in, they are all good and the vehicle itself just gives me a feeling of adventure. I want to take it to the mountains and drive up some winding roads or head out in the country on a dirt road watching the dust kick up in the mirror! The Bronco Sport is an awesome vehicle which I think will prove to be pretty capable off road as well.
I will do my best to answer any questions. Get out and see one in person if you can is my best advice. I still haven't seen one on the road, but I have seen a few on dealership lots.