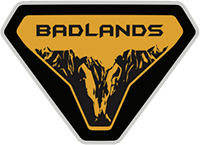 Well-Known Member
I went on a 450 ish mile road trip in my badlands this weekend to go skiing and here are my random takeaways so far.
I was able to cover all bases, Snowy roads, straight-up black ice, windy roads, through the rain, and highway driving. Positives, I really love how you can lock the car into 4wd, it gives you a lot of confidence. If you start sliding downhill and you have the brake applied, the car automatically downshifts to prevent the abs from doing all the work, it works like magic.
The turning radius is ridiculously short
. The steering gets heavier as you pick up speed. It makes driving the windy road really immersive. I enjoy that a lot. The factory windshield wipers are very good.
I still haven't put my foot down but the power and acceleration are impressive, I love the feeling when the turbo kicks in around 2 thousand rpm.
As a side note, this car attracts some serious attention. People are constantly turning heads and staring at you. People on the highway try to maintain speed with you so they can check you out.
Continuing, The lane centering works well, but I think it works best when you give the car a tiny bit of feedback as your going along otherwise is might have a bias to one side of the lane. The lane keep assist is great but on a very windy road, as you drive dynamically in your lane (like hugging the inside of a turn), it will make little adjustments. I can't confirm this but I'm pretty sure when I accelerate through a sharp turn the torq vectoring will kick in a little bit, and it feels awesome and confidence-inspiring.
Here are some of my gripes, The android auto, and apple car play glitch a little via the audio cutting out and disconnecting in little spurts. It's really annoying at times(it's not my cell service because all the music I listen to is pre-downloaded, I have no cell service on huge parts of my journey). This happened once, but I drove by a rock face that overhangs 10 feet above the road just a tiny bit and the pre-collision warning went off, This also happened when I accelerated past a car that was pulling over. It only happened twice during 10 hours of driving on very dynamic roads.
My next thing is when I pull over to take a leak and I leave the car on and have the key in my pocket the car will do two quick little beeps at you.
Overall I freakin love this car. I can't wait to take it through the mud next. The only things I reallllllllly hope that gets fixed and I'm positive it will is the android auto/apple car play being a little glitchy. Ford is your reading this fix that asap.
Last edited: