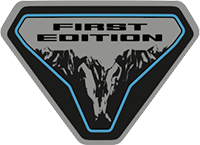 Active Member
(SEE ADDITIONAL PHOTOS IN POST BELOW)
My new 2021 Ford Bronco Sport First Edition has arrived, and I love it! This car is fantastic and the design team should get an award and a big raise from Ford! The car rides like a dream, has plenty of room for a family and for cargo, and has lots of cool features. I'm a life-long Ford guy, and they have hit a home run here. The car offers a little bit of everything...sleek and stylish, sporty yet luxurious, retro yet contemporary, rugged yet fun and casual!
PROS: Very zippy (this one has the 2.0 liter, 4 CYL engine), maneuverable, great acceleration, good visibility, great head room and leg room in the front.
CONS: A little tight on rear leg room, no adaptive cruise control, no under-seat storage in second row like the other BS models, no garage-door opener control built in.
Overall...A++++++. I predict Ford will sell tons of this car because it offers so much utility and value. It's sort of a compact SUV, but they've designed it so you feel like you are in a big SUV when you are in it. All of the controls and functions are well-designed and easily accessible.
I have owned many vehicles (nearly all Fords) and my two favorites were my 1984 Ford Bronco II and my original edition Ford Escape (the boxy one - I had several of them). The new BS combines a lot of the good things about those two vehicles and takes "utility" to a new level because the vehicle can be about anything you need it to be - a family vehicle, an economy car, a reliable 4WD or even a SERIOUS off-road vehicle. I'm not sure there has been a vehicle ever made that provides this variety of function.
If you are waiting on your Bronco Sport, be prepared to get a LOT of attention when you hit the road! When I went to pick up my car at the dealer, there was a mob of people looking at it when I got there, and I have already been approached by several curious people, including the UPS man at my office! People on the road are literally staring and pulling up beside me to have a look, some with friendly (maybe envious?) waves!
I will post back as I drive the car more but would like to close by saying how much I have enjoyed the Bronco Sport Forum the last few months as I have waited for mine. To whoever organized the site, thank you very much, and to all of the members, thank you for posting and sharing!
Last edited: