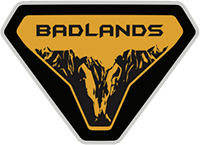 Well-Known Member
Well, it's been a week since I've taken delivery and I've already put about 800 miles on her for her first camping trip. This week's destination was the Bonneville Raceway in Utah for a quick muck-about followed by a drive over the Nevada border out to a non-guided tour of Goshute Caves. It was about a 4 hour drive from my house to the trailhead which gave me plenty of seat time to really dig in to the "qUiRks and fEaTuReS" of the first new car I've ever owned.
Background: My daily driving setup used to be a 2016 Focus ST for my commuter/fun car, my camper/offroader/roadtripper was a 2003 Nissan Xterra and I also currently STILL have a 2003 NB2 Miata. Long story short, I wrecked the Xterra (RIP
?
) traded in the ST for the Bronco and I still have the miata.
In anycase, my driving experience has mostly been with 5+ year old cars (with the exception of the ST which was only 2 years old when I bought it) so stepping into the modern automotive world is legitimately a SHOCK.
So, starting with first impressions after having driven for 4 hours straight, let me tell you that compared to my Xterra, it did NOT feel like a 4 hour trip. I cannot believe how much pain and suffering I was going through to pursue my favorite outdoor hobby with that old thing. The xterra would wander and flop all over the road making the trip an exhausting babysitting marathon, the effort it took to get up to speed and the amount of complaining it did really sucked any confidence I might've had in it's abilities (though it never left me stranded) and while I loved that thing, every trip in it was stressful, draining and anxiety riddled.
Not so with the Sport! The drive is comfortable, composed. The steering is direct and planted, it never gets upset even after going over bumps at high speed and takes so much less focus to manage. The intelligent cruise control is a wonder and a burden off my back. It was so easy and pleasant the whole trip that I'm now reevaluating my previous "range" for weekend getaways. I would caution that if you're thinking of buying a Sport (or any new vehicle for that matter) without 360+ to strongly reconsider, it's THAT game-changing.
The only quirk I noted with the lane centering system was that at high speeds it tended to sway ever so slightly within the lanes. Not all the time, but sometimes it would just slowly ping pong. Not bad enough to be worried about it, just a little thing I noticed.
Other thoughts:
- Seats are much more comfortable than I was expecting based on others descriptions in this forum
- Heated seats get WAAAY hot, goddamn
- Power is plentiful and easy to tap into, although it is all down low in the RPMS which gives the throttle a "on/off" feel if you know what I mean
- Copilot lets you (responsibly) enjoy the scenery the same as your passengers, which, being the person who always drives because you have the most seats/ground clearance out of all your friends is just really nice when you've typically had to keep your eyes on the road.
We took two cars for this trip and it was really cool to compare the two. We eventually got to a dirt road which quickly turned into a half frozen half muddy nightmare. The CX5 with us barely made it, but to it's credit, it DID make it, but not without much complaint from the car itself. You basically had to just turn off traction control and pin it through every muddy spot in order to make it.
The Bronco on the other hand could go through any obstacle at whatever speed it wanted. I feel like with a lift (we were scratching bellies the whole time) the sport would essentially be unstoppable.
As much as I'd like to report more on the off-road capabilities, truth be told it wasn't challenged that much at all, which is to say that to the Sport it was just another dirt road.
I'll be headed down to Moab for my second trip hopefully next weekend. I'm thinking of doing Fins n'things, so if any of you out there have any thoughts on whether that's a good idea or not, let me know!
Anyways, I'll keep posting my trips in this thread, I want to use this as an actual journal so I have some kind of archive of all my trips. Hope to see you guys out on the trails!