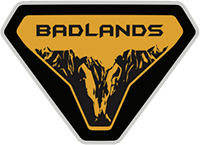 Active Member
First Name

Mike
Joined

Mar 27, 2023
Threads
Messages
Reaction score

52
Location
Vehicle(s)

Bronco Sport
I just attended my first Off-Roadeo. Although I've driven extensively on snow, ice, dirt, gravel, etc. for many decades, off-roading was entirely new. The TL;DR, it was a blast, more Sport owners should do this.
The Utah location is spectacular. The lot had 3 smalls, and at least 18 bigs.
Here's a partial view from my ride. Just scads of the big ones.
We met Jamie, our guide, enthusiastic instructor, and Moab native along with another couple at the Bronco visitor building. There's snacks and drinks, etc. and a Bronco swag store. Quick get to know you chat and then we are off to find our mounts.
Here is mine. (Pics taken after, hence the dust. I promise it was clean at pickup.)
Each vehicle had tire pressures between 27-30 lbs. And each was a bone stock BL down to the Pirelli Scorpions. Twenty minutes up the Colorado River, and we take a left just past a 19th century steam engine, onto BLM land.
We spent several hours through increasingly gnarly back roads (bad, but roads) and mining exploration "routes" (loose rock, slip rock, ruts, sand: occasionally in a linear shape but not roads in any common use of the word). We were introduced to ramps and steps, etc. and many methods for overcoming obstacles. Throughout, our guide taught us all about suspension function and how the laws of physics impact a vehicle off road. He taught about the fragility of the landscape and the importance of off road etiquette.
Then we broke for lunch (sammiches!) hundreds of feet above the nearby valley floor.
Here is a view of the valley floor and part of the La Sal range, still heavy with snow. The desert was in bloom, and these desert princesplumes (dead center) were everywhere.
After lunch, we spent more time on ever sketchier terrain until we parked on a giant section of slick rock. Then we switched out of normal mode and began learning the GOAT modes.
Two of the three sports, our guide's is just out of view. It doesn't look like it, but we are waaaay up. (That's a technical term.)
Sand and mud/ruts were fun. But rock crawl was next-level. We hopped up steep rock stepped "cliffs" like billy goats. Impressive. Also impressive was how amazingly sure-footed it felt through all the obstacles all day. And watching the leading cars, one wheel in the air, and then the other, over and over, was wild. And then when you do it, and it feels so steady.
Six or so hours later, we return to the Bronco "Bunkhouse" for dinner. The salmon was delicious! Overall, I had a blast, I learned a lot, and now plan to explore more of where I live. It's warm season in Colorado!