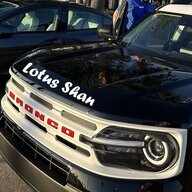 Active Member
First Name

Bill
Joined

May 11, 2023
Threads
Messages
Reaction score

89
Location
Vehicle(s)

2023 Bronco Sport Heritage
As previously noted, I have 'dynamic honesty' about what I'm likely to do when the Good Idea Fairy comes a'callin'. What follows will be a combination Trip Report and Ownership Update, with some mileage and maintenance stats just to spice (?) things up.
Purchased a new 2023 B S Heritage on April 30th this year. One routine oil change/tire rotation courtesy of the dealership prior to this.
Three trips to the dealership to get the OEM crossbars installed. Comedy of errors. The bars are different between Badlands/First Editions and the unwashed masses. Mechanically disinclined oil change tech was tasked with the initial installation. They clearly didn't fit. He applied enough force to break the allen wrench. THEN went for help. Second iteration of the effort was ... the same wrong bars shipped in. I watched five or six techs and service reps orbiting the Sport in the service bay as they tried to figure it out. I let someone know - not for the first time - that there are two different parts. OK, third visit went fairly smoothly. We'll just leave that there.
I occasionally get the road trip itch. I haven't gone west, so this seemed like as good a time as any, although not as good a time as could be. It was chilly. Anyhow, 26 October load up and head to Gainesville to visit my son at UF. Next day hit the road in earnest to do some sightseeing heading westerly. Visited Birmingham, AL, Memphis, TN, then kinda skipped along to New Mexico. Santa Fe to Pagosa Springs, CO, to Moab.
First excitement was on Willow Springs. One descent down a rock face left Panda Express teetering back and forth on diagonal wheels. Never having done THAT before, it was an arresting experience. There were other obstacles along the way, too. Got to see some dinosaur tracks and great scenery. Just other-worldly fantastic landscapes. I understand Georgia O'Keeffe a little better now. Camped at the highest point I could get to (Juniper Camp ground) on the way to Porcupine Rim. Camping was closed at Porcupine Rim.
I went back down Sand Flats Road to the park entrance and waited to see some people ascend Fins and Things. There wasn't a lot of action, so I started talking to the booth attendant. She said Baby Lion's Back, around the corner, was a good starting point. I nosed up, and it looked like the approach angle was ok, so I started up. I paused to see if the hitch would drag. No problem. Up I went. A little tire-squealing later and I was on top. If you haven't been there. it's a nice view. Then you get to the end of the short trail ... and it drops precipitously. I got out to look around and the first thought was "She set me up!" Sharp, steep, scary drop ahead. Oh, wait, there was a more manageable if nearly as frightening a drop more to the right. "Ok, I can do this." Creep down... creep down... wheels lock and slide out of control the final few feet into the mud puddle at the bottom. Mission Accomplished.
Go to Moab. See the amazing scenery. See the dinosaur tracks in different places. See the petroglyphs. Take on some of the off-roading. Hike, bike, float. It's all there. Some good food in town too.
Baby Lions Back approach
Willow Creek by the dino trax
Baby Lions Back Ascent and Traverse
No, I did not.
Willow Creek Rd
Final Checkup
Final video - one time the infotainment center shut off and restarted on its own. Then another time it came on and wouldn't shut off. Like it was possessed. And it was 10/31.
Return trip ran down to Las Cruces, Los Alamos, El Paso, Houston, New Orleans, Tallahassee and home.
Departing Odometer: 5490.9 (starting fill-up)
Ending Odometer: 10548.3 (ending fill-up)
Trip Odometer: 5007.2 in the driveway
Indicated MPG: 28.3
Calculated MPG: 26.55
Undercarriage exam at end = no damage at all. Mud flaps do drag and make a lot of noise, but didn't suffer any significant damage. I definitely impacted the Plastic Rock Rails (?) more than once and they suffered no damage either.
Final assessment - safe, comfortable (enough), reliable, efficient (ish). Capable of reasonably interesting off-road stuff, straight out of the box. I didn't even air down the tires at all. If anyone's worried about whether the 1.5 has the guts, it passes going uphill and keeps up with traffic at whatever speed I choose. It's not a Rubicon or a Mustang. It's a reasonable compromise that gets you (got me) everywhere I wanted to go, when I wanted to go there, and with good performance and mileage. Silly box on top and all. Safe travels!
| | | | | | | |
| --- | --- | --- | --- | --- | --- | --- |
| 25-Oct​ | 5490.9​ | 0​ | Sebastian | FL | 87​ | |
| 27-Oct​ | 5741.9​ | 10.138​ | Gainesville | | 87​ | |
| 28-Oct​ | 5904.2​ | 6.149​ | Tifton Ga | | 87​ | |
| 28-Oct​ | 6195.3​ | 10.733​ | Brookside | AL | 87​ | |
| 29-Oct​ | 6428.9​ | 10.147​ | West Memphis | Arkansas | 87​ | |
| 29-Oct​ | 6712.7​ | 11.358​ | Cherokee | OK | 87​ | |
| 29-Oct​ | 6850.8​ | 6.154​ | Shawnee | OK | 87​ | top up for cold night |
| 30-Oct​ | 7050.6​ | 8.341​ | Shamrock | TX | 91​ | |
| 30-Oct​ | 7228.6​ | 7.224​ | San Jon | NM | 93​ | |
| 30-Oct​ | 7420.9​ | 7.646​ | Santa Fe | NM | 91​ | |
| 31-Oct​ | 7639.9​ | 7.194​ | Bayfield | CO | 91​ | |
| 1-Nov​ | 7814.3​ | 5.505​ | Moab | UT | 89​ | top up for day & camping |
| 2-Nov​ | 8151.2​ | 11.023​ | Pagosa Springs | CO | 87​ | |
| 3-Nov​ | 8443.6​ | 9.42​ | Corona | NM | 87​ | |
| 4-Nov​ | 8675.1​ | 8.55​ | Las Cruces | NM | 86​ | |
| 4-Nov​ | 8963.4​ | 9.709​ | Ft. Stockton | TX | 91​ | |
| 5-Nov​ | 9221.7​ | 10.518​ | Kerrville | TX | 87​ | |
| 6-Nov​ | 9533.8​ | 11.392​ | Anahuac | TX | 89​ | |
| 6-Nov​ | 9681.1​ | 5.711​ | Rayne | LA | 89​ | |
| 6-Nov​ | 9855.8​ | 6.27​ | Waveland | MS | 89​ | |
| 7-Nov​ | 10185​ | 12.54​ | Tallahassee | FL | 89​ | |
| 7-Nov​ | 10548.3​ | 14.779​ | Sebastian | FL | 87​ | End of trip |
| | 5,057.40​ | 190.501​ | 26.55​ | | | |
| | Miles | Gallons | MPG | | | |