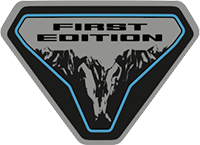 Active Member
When I completed the purchase of my 2021 Bronco Sport FE, it turned out I had 141,000 points on my FordPass! I own several Fords and really had no idea those points were accumulating based on purchasing several new Fords as well as other vehicle expenses. So someone at the dealership suggested I buy some accessories for my Bronco Sport. As noted in this forum, Ford has a great BS accessories catalog you can view at
https://www.broncosportforum.com/forum/attachments/bronco_sport_accessories-with-msrp-pdf.4731/
.
Here are the things I purchased along with photos and observations:
1. CARGO AREA PROTECTOR
- This floor mat for the rear cargo area is sharp. Listed on Page 7 of the catalog, $134.99. My Bronco already had a "vinyl" floor in the back, so in some ways this floor mat is kind of overkill. Not sure you really need it if you have the vinyl floor, but it looks nice.
2. ALL-WEATHER FLOOR MATS
- Page 32 of the accessories catalog - $170. So my FE has the "vinyl" floor but came with carpet floor mats which get dirty very quickly. The all-weather mats work great and are similar to Weathertech floor mats. They have a "scoop" design so they accumulate any dirt and debris and can be easily removed and cleaned. The two front mats snap onto the "posts" in the front floor areas to secure them in place. The "rear" mats are a two-piece unit. one piece covers the left floor and console and the other covers the right floor. The area over the middle has a nice Bronco logo. These floor mats are making it much easier to keep my BS clean. There are two photos below showing both the front and back mats.
3. DASH CAM - FRONT CAMERA with REAR CAMERA
- Page 8 of accessories catalog - $329. I wasn't sure this was something I really needed but since it was basically FREE with my massive Ford points I sprung for it. There are a few warning issues on this but overall I like it. One camera mounts under the rear-view mirror on the windshield and the other mounts on the rear hatch window. Basically this device continuously records everything in front and in the rear of your vehicle when the vehicle is on, and records it on a loop on a Micro SD card. You can watch the video on your cell phone using a downloaded app, or you can remove the SD card and watch the videos on your computer. A card reader adapter comes with the kit. The video quality is good, but noticeably not as good in the rear due to the "tinting" of the rear window, but still not bad. This kit is great for having an archive of where you have been, or would be good if you were to be in an accident, etc. Also if you are a big off-road person and want to re-live your 4WD adventures, you will love it. It works well and is a nice toy. So here are the issues: 1) No one at the Ford dealership where I got my car seemed to know very much about these cameras. 2) These cameras are not really a product that is specific to the Bronco Sport but will work in them. 3) Installation requires a cable to be routed through the vehicle ceiling, so you are likely going to want to have the dealer install the cameras and figure on another $200 or so for that expense in addition to the price of the camera kit. Get a quote first. 4) These cameras do NOT play through the SYNC system or on the vehicle's display screen. Even the people at the dealership assumed that would be the case, but it isn't. You either watch the videos on your cell phone or on your computer. 5) Every time you start your vehicle, a little female voice tells you your dash cams will now begin continuous recording. I find this kind of annoying and wish I could turn that off. 6) Note in the catalog there is an option for the "infared" cameras. I am told the "infared" cameras are "rear facing" so you install them to record what is inside the vehicle rather than outside, such as an Uber driver might want. Be aware to buy the correct model.
4. WEATHER TECH BUMP STEP
- This is not a Ford accessory but it's a pretty cool addition to my BS FE! I saw this on a TV commercial and bought one. It "plugs in" to your trailer hitch receptacle and serves as a bumper protector and a "step" to allow you to step up to reach the roof of your vehicle (or your luggage rack or car-top carrier). I think this is a pretty handy item. If someone hits your vehicle from behind at a low speed, the Bump Step will absorb the impact and may help prevent serious damage to your vehicle. It comes in a 12" width like the one in the photo below for $60, or you can get a 24-inch wide model for $100. You can buy them at
www.weathertech.com
or at other retailers. I like the way mine looks on my BS FE.
5. BUMPER PROTECTOR
- Found on Page 13 of accessories catalog, $78.57. I have owned many Ford SUVs and it is easy to get the top of the bumper damaged. This pad strip goes over the top of the bumper and keeps it from being scratched or marred by falling objects. I think this is a great investment to protect the top of your bumper. It is just a peel and stick item and it comes with a guide to help install it correctly.
6. SILL PLATES (Black Platinum)
- Page 37 of accessories catalog, $99. These plates go over the "BRONCO" embossed letters above the front floor panels to supposedly upgrade the look, but I honestly felt the ones that came with the car looked much better so I decided not to use the new ones. The "plates" don't seem to really match the look of my FE and they are very shiny and reflective which doesn't seem to mesh well with the overall look and feel of the vehicle. The first photo below is the door frame without the sill plate ("BRONCO" LETTERS) and the second photo shows the optional sill plate in black platinum.
7. SOFT CARGO ORGANIZER ($80) and SOFT-SIDE COOLER BAG ($25) - page 7 of the BS accessories catalog. These are good products, but I ran into a problem. I ordered the flip up cargo shelf/table option on my BS FE and the cargo organizer is too tall to fit under it, so this item really doesn't work well for me. But it is a nice item for those without the table.
I've had my BS FE since the first week of January. I've got about 1,700 miles on it, and I am loving the car. Every day I get honks, waves and comments from strangers who love it, too. It is a great vehicle...thanks Ford!
Last edited: