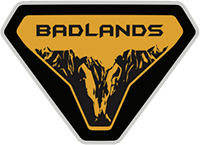 Well-Known Member
UPDATE
I installed an HRG Lift on my Badlands earlier this year. I've since put about 4,000 miles on it with some light offroading here and there. About a week or so ago I developed an occasional clunk while turning. It seemed to come from the front wheel on the inside of the turn. At first it only did it when going over a bump, but now it does it more frequently and on smooth ground. I took off both front wheels to check fasteners and look for evidence of parts hitting each other, but didn't find anything. So I'm still not sure what's causing it.
But I did discover something else. The sway bar end links will scrape against the body when you turn the wheel at full droop. I hadn't experienced this until tonight when I had both corners up in the air investigating the clunk. I had the wheel off and was turning the knuckle to look/listen for the clunky culprit when I noticed the link hit the body. For science, I kept turning it to see how far it would scrape. It's several inches. With the suspension compressed, the link travels along some relief molded into the body, so this only happens at full droop.
The HRG links are a lot thicker on the ends (comparison photo below). So I pulled the shortened HRG links, touched up the bare metal, and put the OEMs back on. Maybe this somehow resolved my clunking, too. I reached out to HRG just a few moments ago to let them know, but I wanted to also give everyone here a heads up. Don't steer very far if one of your wheels is airborne! Or just be careful. The interference may require both front wheels to be airborne. In which case, keep that in mind when you're doing front end work.
Last edited: