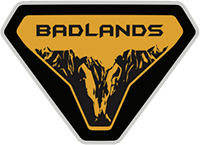 Well-Known Member
Today marks my one week anniversary of taking possession of my Bronco Sport Badlands (with the Badlands Package). I wanted to take a minute to share a few of my thoughts about my experience so far.
Size: While it is definitely a small vehicle (shorter than my Fusion), it's height and maneuverability more than make up for that, in my opinion. The inside feels roomy and at no time do I feel like I'm missing out on interior space. I am able to see over other cars just fine while on the road. I also find myself backing in and out of spaces (especially my garage) easier because the BS isn't as long as other vehicles I've driven.
"Nannies": I tried out adaptive cruise control and lane assist steering for the first time yesterday during a 40 minute trip to an outlet mall. Mind. Blown. Once I figured out the sweet spot for my steering wheel, I was able to keep one hand on the wheel without the car fussing at me for not having my hands attached. That's when the magic happened. I cruised for about 20 miles with the car practically driving itself. If you're in to that sort of thing, the hype is real.
Crossbar Wind Noise: The day I picked up my BS, there was very noticeable wind noise present whenever I drove over 35mph. I thought I would have to just deal with it as this was my first vehicle with crossbars attached. Thanks to this forum, I realized that when my salesman installed my Yakima crossbars, he accidentally forgot to replace the rubber gaskets on the bottom of the crossbars. I removed the crossbars and installed the rubber gaskets along the bottom per the instructions. The sound difference improved dramatically. Now, there is no noise at all...only a minor whistling when I go over 75mph. Even then, I have to turn the radio down and force myself to notice it.
Underseat storage: This one is minor, but that small space is perfect for my umbrella. I've always just had my umbrella on the floor alongside the driver's side door. Now, I have a perfect space for it. It's out of the way when I don't need it and very accessible when I do...without getting wet.
Sync 3: I really wish Ford would've hooked us up with Sync 4 so we could have wireless Android Auto. I'm trying not to complain because Sync 3 trumps everything I had in my Fusion. But still...no Sync 4 was just idiotic.
Lighting: These LED signature lights are BRIGHT! The whole fog light cornering thing is quite nice and makes a noticeable difference.
Alto Blue: Because blue is my favorite color, I've always wanted a blue car. However, every car I've owned has been black because, to me, no car looks as nice as a black car when it's clean. Alto Blue is the best of both worlds. This color is either blue or black depending on how the sun hits it. Sometimes, it's literally both colors at once...LOL.
I don't have much more to talk about at the moment. Because of my recent schedule, I've only driven a little over 250 miles. But, I love driving this thing. I love the color. I love the features. Next month, I'm getting my windows tinted and a ceramic coating applied. I can't wait to find some trails so I can try my hand at off-roading for the first time.
I used to think I would feel some kinda way when the full-size Broncos start hitting the street later this year. But, my decision to cancel my Bronco reservation and grab a fully loaded BL+BL was the perfect decision for me. I have everything I need in a new vehicle.
Last edited: