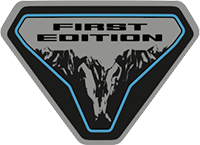 Well-Known Member
I know the Sport is not a direct competitor to the Wrangler. I thought it would be interesting to compare it to one since I had the availability. The overall length and width is pretty similar.
Bronco Sport specs: Area 51 FE, 235/65R17 tires. Jeep Wrangler specs: Panther Pink Sahara, 255/70R18 tires, stock suspension.
Some of the pictures might not be the best but enjoy! Plus I think these pics do good to show all the different hues of the Area 51 color.
The blue f150 in the background is blue flame metallic.
Last edited: