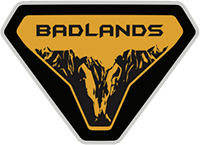 Well-Known Member
Just took delivery of my Cactus Grey Badlands over the weekend. Have never been off-roading prior to purchasing this vehicle, so naturally I headed straight for the trails!
I don't have much to compare this to in terms of off-road capability, but all I can say is that this thing handled mud and deep ruts, steep climbs, fairly deep water easily. Felt like it really could go over anything, and throttle/brake control was so easy on all surfaces.
What have your impressions been like taking your Bronco off-road?