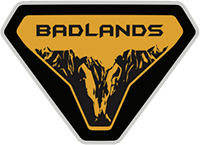 New Member
First Name

Chris
Joined

Nov 8, 2021
Threads
Messages
Reaction score

18
Location
Vehicle(s)

2022 Bronco Sport (soon-ish?)
Hello All,
I have had my 2022 Badlands for 17 months now and still love it. We recently completed a trip through Big Bend National Park. We stayed for 4 nights at 4 different backcountry campsites, so we did quite a bit of driving throughout the park. My vehicle is a stock Badlands with 235/65 Falken Wildpeaks.
I wasn't very concerned with getting to some of our campsites after playing around at a couple OHV parks here in North Texas prior to our trip. I consider my off road skills moderate at best, I had a Jeep Wrangler many years ago that I drove heavily off-road but haven't had any experience since. We went to Northwest OHV Park in Bridgeport and Barnwell Mountain Recreational Area prior to our trip where I quickly found myself in way over my head with no choice but to power on through. Power through it did, I was honestly shocked by the capability of this vehicle. The suspension on this beast is absolutely amazing, and if I could clear it, I could go up, over or through it. Clearance is the major (only?) limiting factor with this vehicle! If you can clear it, you will make it with ease as long as you can pick good lines. The maneuverability with its short wheelbase is a huge advantage, and the vehicle being narrow allows you to avoid *most* of the deep ruts that are left by the massive tires that most people have here in Texas. Where it struggles is when the road narrows and you have no choice but to ride in the ruts, needless to say I got a lot of use out of the skid plates underneath. This was worsened by the fact that my wife and I overpacked and we probably lost a couple of inches of ground clearance and even though the sounds were awful, the plates did their job and protected the underside from any damage.
One of our campsites was Telephone Canyon which is basically at the midpoint of Old Ore Road. We did end up driving the whole road from south to north. There are some really rough spots where you need to get out and plan your route meticulously, but once I had a line the BS never struggled. We were constantly coming across huge trucks, 4Runners, lifted Jeeps and some other full size Broncos. Nearly every vehicle we passed seemed surprised we were there and asked if we were struggling. I told everyone we came across that if I can make it, they shouldn't have any issues haha! The Badlands made me proud of its capability. I only wish there was a real way to give it the proper lift and tires it deserves
Prior to the trip I had considered taking a run at Black Gap Road but we decided against it. Honestly, if I didn't have my 6 year old with us and didn't have hundreds of pounds of extra weight dragging us down I would have went for it. Maybe next time...
Moral of the story - this vehicle is a beast!
Last edited: