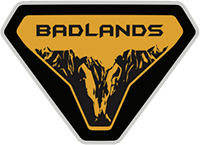 Well-Known Member
Let me preface this by saying I drive three 8 hours shifts a week in an F-150 or 250 patrolling 18 miles of soft, deep sandy trails and beaches in a refuge where the public can get permits to drive. I finally got the time (and courage) to take my Bronco Sport Badlands out for a day and thought I'd share my findings.
Ground clearance - The refuge has a requirement of 6" minimum ground clearance. After dropping air pressure from my stock Pirelli Scorpion tires down to 13# I lost two inches and ended up at a hair under 7" clearance. All good there except that I did feel the bash plate level out the tops of some of the deeper ruts, but my Wrangler used to do that too so it didn't bother me.
Four Wheel Drive - To get a permit to drive on the beach and trails the vehicle must have locking 4 wheel drive. Newer vehicles must have this indicated on the dash by a light, while older ones can be by practical demonstration. Up until last year AWD vehicles could get a permit if they had the ground clearance, but with the many types of AWD they are now all banned because they get stuck too often. Right or wrong, only FE or BS trim levels are permitted on the refuge.
On the beach - Since this was my first time in the BS I knew how I wanted it to handle based on my experience with the F-150 I usually drive. But rather than doing what I wanted I decided to stick with Ford's plan, so I selected the G.O.A.T. Sand Mode and also turned the Advanced Traction Control off (we require all drivers to do this as vehicles handle better in the sand and save their brake pads). The BS actually handled a bit better than the F-150, probably because it is lighter. It could jump from on track to another much more easily (see the photos below). The only time I felt it want to spin was reversing across tracks in a U-turn, but I just feathered the gas and it locked right in and moved across.
What I didn't like - My only complaint is that in G.O.A.T Sand Mode the shift to a higher gear is delayed.... a lot. I found running at 3000 RPM and 14 MPH annoying so I mostly stayed at 12 MPH which was 2500 RPM (still annoying). I have never tried the manual gear management on the F-150 and didn't want to try it on this trip in the BS because I had nothing to compare it to.
In summation - When we packed up and left the beach I forgot to put it into G.O.A.T. Sand Mode and simply drove off. The F-150 stays in 4WD after shutting it off but does turn Advanced Traction Control Back on. The BS reverts to Normal with ATC on. After hopping across a couple of tracks and driving fine I noticed and put it in Sand Mode and turned ATC off. Honestly, except for it downshifting and higher PRMs I didn't notice any handling change.
Takeaways - I think that when tires are properly aired down to 13-15#, the G.O.A.T. Normal Mode on all trim levels will handle 95% of all beaches. I would not want to tackle ours without the locking 4WD. Also, I think I am done with G.O.A.T Sand Mode and next week when we go out again I will simply hit the 4WD and ATC buttons and go for it. While I realize the higher RPMs drive more cooling to the Badlands clutch units, I don't think it will be an issue... unless I get the dreaded "Off Road Capabilities Disabled" message!