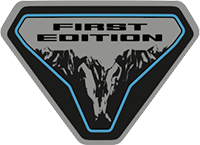 Well-Known Member
For those that are considering adding the cargo management system that had not ordered it from the factory, here are the part numbers and prices. (These prices are for the quarter panels that include the rear 110 power converter and for vehicles with the upgraded 10 speaker system)
LH Trim part# M1PZ-7831013-BA $487.97
RHTrim part# M1PZ-7831012-BA $481.52
CMS Table part# M1PZ-7813046-GA
$1,042.47
For reference, adding it when ordering is a $110 option.
Currently, the cost to add later multiples by 20 (minus labor).
In order to add the CMS later on, you will need to order the LH (part# M1PZ-7831013-BA) and RH (part# M1PZ-7831012-BA) panels, as well as the actual cargo management system itself (part# M1PZ-7813046-GA).
Last edited: