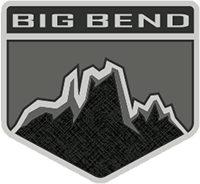 Active Member
Just broke the 51,000 mile mark on the odometer, so thought I should report in. I have a 2021 Big Bend with the 1.5 3 cylinder engine. Of course I do drive a lot. Numerous trips from my home in southeast Wisconsin across the U.P. of Michigan, Detroit, southern Indiana and Kentucky, Twin Cities, and other places I can't remember right now. I don't off-road, but I have driven in plenty of snow and ice.

To summarize, really have not had any major problems so far. Only warranty issue was a leaking shock absorber. Engine appears solid, no oil burning or oil loss so far. I do change the oil every 5-6,000 miles, which I am sure many of you will think is overkill. I got that tip from a Ford mechanic, he says the eco boost engines run hotter then your average engine, so he believes in more frequent oil changes.

I have experienced a couple problems documented on this board:

1. Engine coolant loss. Mine is not a severe as others, I have had to pour in about 2 1/2 quarts since I bought the vehicle in February of 2021. No visible leaks, no white smoke in the exhaust when starting the engine, and nothing I can see or smell in the oil. I am taking the vehicle to the dealer next week, this is not normal to just have coolant disappear. However, the engine temperature has never run above normal either. BTW, back in January, I stopped into a Ford dealer and bought a gallon of the pre-mixed coolant.

2. Brake noise when backing up. I get this only after the vehicle has sat for a few hours or over overnight. I do need new brake pads on the rear brakes, but the noise has been there basically since the beginning. My wife bought a 2021 Ford Escape about a year ago, has 17,000 miles on it, and it makes the same noise.

Looking at the maintenance schedule, it says change the transmission fluid at 150,000 miles (normal driving)? I also have a friend who re-builds transmissions for a living, he thinks that is just plain nuts.

Overall, love the vehicle. Yes, have a couple items, but I am confident I can get them resolved. Oh, and by the way, I do have an engine cover!