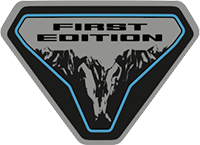 Well-Known Member
Traded my Sport in on my big Bronco, so I have some stuff to get rid of.
Falken 235/65R17 tires that came stock on my First Edition. 9k Miles on them.
OEM rubber floor liners. Front and rear.
Yakima HD Crossbar kit from Ford, had them on for 2 months and never used.
Auto start/stop eliminator.
K&N air filter.
Center console organization tray.
Shoot me an offer! Located near Seattle.