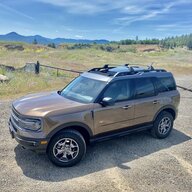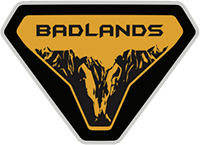 Well-Known Member
First Name

Matt
Joined

May 8, 2022
Threads
Messages
Reaction score

192
Location
Vehicle(s)

2022 Bronco Sport Badlands
First off, I am not trying to put down the Bronco and say the Sport is a superior vehicle…..this is just my experience of trying to make a deal on a new Bronco/ trying to trade in my Badlands Sport. My dealer did get in a 2023 Bronco Wiltrack, no options, they come with a mid package. Race Red is the color. The person who ordered it years ago backed out due to high interest supposedly. MRSP was $56k and dealer wanted 10k over sticker.
First impressions on the Wildtrack are great! WOW! Looks like a monster truck, they have the Sasquatch package standard which adds 35" tires, Fox 3 suspension. It sits up high and looks great IMO. Not a huge fan a red regularly on cars….but with the Wildtracks' black grille and emblems…looks
to me.
Step inside and overall I liked it. Not in love with the tan ish interior with blue accents. The fabric seats are an almost backpack material and had a digital camo print. The fact that the hardtop comes off was awesome! Back seat room was marginally bigger. Kind of a let down. The rear cargo though was bigger which is what I needed for camping. But the roll bar takes up some room.
The 2.7 V6 TT was nice. The big knobby tires let you know this thing is a beast! The biggest letdown was the stereo. Apparently all 2023 broncos come with a six speaker stereo and a subwoofer. However this one on the build sheet was affected by parts shortages and has a $250 credit for subwoofer delete. What's the most interesting about this…. after digging on some bronco forums is Ford still installed a non-functional amp and a subwoofer that does not have a magnet in it. The stereo sounds at best like two iPhones, playing at max volume! I will never complain about the 10 speaker system in my sport again!!
Now to the deal, dealer offered me after some haggling 36K for my bronco sport Badlands with premium package and sunroof. About a $3000 loss in a year. They did reduce the mark up from 10,000 over MSRP to 5000 over MSRP…. Apparently that's a "employee price". I have had a bit of equity in my sport, I would be financing about $40,000 for the Bronco. But at the end of the day, my sport drives much smoother, much quieter, has a heated steering wheel, definitely faster 0-60….wireless charger, leather seats, all rubber floor, which in the Wildlands was carpet everywhere. It would be probably a $250 increase in payment. Plus a bit more in gas money….. I've gone back-and-forth for days, contemplating the pros and cons and if you ask me sometimes I'm just going to do it and sometimes it's just not worth it and I think that's almost a problem in comparing the two!
The biggest thing was the stereo for me! A now 61k vehicle should be much better stock. I know I could customize later…. The fact that Ford installed nonworking parts and down the road can you get those parts? Anyways….still torn what to do. But at the end of the day I still love my Sport Badlands
Check out this thing!